Seasonal & Holiday Specials
Local Weather
real feel: 69°F
current pressure: 30 in
humidity: 54%
wind speed: 7 mph N
wind gusts: 7 mph
UV-Index: 1
sunrise: 6:16 am
sunset: 8:54 pm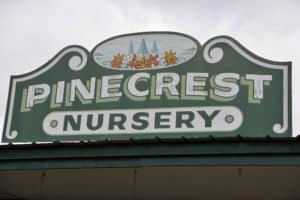 Pinecrest Nursery & Garden Center is a family owned and operated business located in West Chester, Ohio. We are located 20 miles north of Cincinnati and just minutes off of I-275.
Pinecrest takes pride in providing quality stock, growing over 90% in our Wilmington, Ohio nursery. We grow shade and ornamental trees, flowering shrubs, conifers and perennials. It is a huge advantage to our retail customers, garden centers, and local landscapers to have plant material already accustomed to our climate and soils. We also offer landscape design service for the "do it yourself" customer. Our family is here for you from beginning to end.
In addition, Pinecrest Nursery & Garden Center is home to the Pinecrest Home & Garden Shop! The garden shop is a treasure of unique gift items, collectibles, and is sure to please the garden enthusiast. We carry a full supply of garden items, decorative concrete, hardscape materials, and water garden supplies. During the holiday season, we also specialize in live, fresh cut, and artificial Christmas trees.
Pinecrest Nursery is open year round . Every trip is a new experience – as we change with the seasons.