Seasonal & Holiday Specials
Local Weather
real feel: 70°F
current pressure: 30 in
humidity: 60%
wind speed: 0 mph N
wind gusts: 4 mph
UV-Index: 3
sunrise: 6:16 am
sunset: 8:54 pm
Family Owned Since 1954
Pinecrest Nursery & Landscaping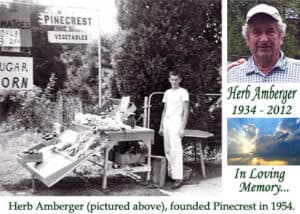 Herbert Amberger was born in Norwood in 1934. His family moved to the west Chester Township, which at that time was called Union Township.
In 1954, after completing a landscape program in trade school, he started selling vegetables on a roadside stand.
In 1960 he built the garden store which was ran by his mother Ruth, and started selling plants and chemicals.
Herbert Amburger's love of landscaping help grow the business from a side of the road operation to the multidimensional enterprise it is today. His passion extended to every property he beautified; that was his hobby and that's what he liked to do.
Herbert Amberger was very giving and kind hearted, a trait he exemplified in many ways donating of plants to area schools and fundraisers.
In 1999 he handed over his business to his sons Steve and Tony. The boys shared their father's passion in the business.
Year after year the boys would keep making improvements to the garden store. They started expanding their landscaping services, not only to homeowners but to homebuilders and commercial builders. They also were recognized in Homerama as favorite landscaping.
The boys have their own nursery located in Wilmington Ohio where they grow a lot of the garden centers plant material.
In 2007 they acquired the property next door to the garden center which is known as Pinecrest home & garden. This was added for their customers to find accent pieces to complement their landscape. The gift shop is known for a lot of unique gifts as well.
Steve and Tony have continued adding more services for their customers hardscapes which include paver patios, outdoor fireplaces, walkways and fire pits.
Customers notice the positive changes being done to the business.
In 2012 Steve and Tony purchased the greenhouse located across the street from the garden center known as Pinecrest greenhouse. This allows them to grow their own flowers at affordable prices. The greenhouse also carries herbs, vegetables and seeds for all their customer's needs.
.